4G Camera with built-in solar panel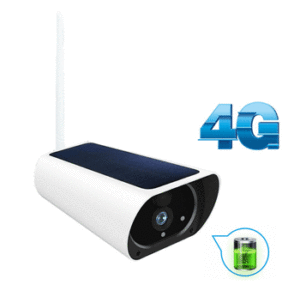 15m Night vision H.265 Remote monitoring over the Internet. Built-in SD card slot for recording. Outdoor Bullet 4G Solar Security Camera
Wireless camera capable of operating in a remote area without Wi-Fi using any prepaid SIM card (CellC/Vodacom/MTN) provided there is network coverage in the area.
The camera has motion detection and can be set to notify you via email or push notification through the APP on your mobile device (IOS/Android). You can view the footage live anywhere in the world on your devices as long as you have internet connection. The camera can be set to notify approximately 5 different emails/APPS when motion is detected.
The camera can be set to record only when it detects movement or set on continuous recording.

The 4G Solar Camera has a built-in battery recharged by its on-board solar panel. This package however also comes with a power supply and can be connected to a separate solar kit (not included).
H.265 Video compression technology allows this camera to make efficient use of data and storage space.
1080P Megapixels allows you to see video footage very clearly. This device can also be set to record at a lower quality such as 720P or as low as 640P if necessary.
The camera also can be connected using a Mi-Fi security connection.
Automatic Infrared allows day and night viewing.
Night vision can see as far as 15m in the dark.
Video footage can also be stored on an SD card within the camera, and this footage can be accessed at any time remotely.

Thank you for choosing our product range, we aim at being the best in sales assistance, product quality and service.

Need more than one? Get a Quote.