250m Photoelectric Beam Sensor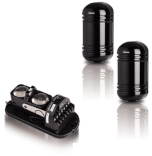 Active Photoelectric Beams.
Two active photoelectric beam sensors with a detection range of up to 250 metres.
When an intruder moves between the beams it will trigger the alarm panel.
The sensors can be connected to a wireless transmitter. Installing boosters can give additional distance between the beams and the alarm panel.
Thank you for choosing our product range, we strive to be the best in service, product quality and sales assistance.
Need more than one? Get a Quote.