Wireless Security. GSM Alarm System send SMS and warn you of intruders before they enter your home or business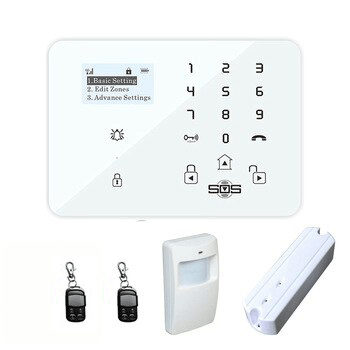 Wireless GSM Alarm system - Motion detection and SMS security Alert. DIY - 96 wireless Zones - 2 wired Zones - NO/NC Relay alarm output ports.
Wireless Alarm Systems South Africa, capable of detecting movement in and around your home. Install wireless accessories to detect gas leakage, glass breaking, doors opening etc.
Add 2 wired sensors or trigger your current GSM alarm systems with the available relay output ports.
The 96 wireless accessories and 2 wired zones can each be given an individual name to indicate to the owner which zone detected intrusion.
Warns you immediately of an intrusion with an SMS with a description of the affected zone.
This is a new design with recognition of code and a very reliable GSM notification system.
Has NO/NC relay output ports to trigger your armed response security team for example.
The built-in back-up battery gives you up to 8 hours of standby and it will send a notification if there is a power failure on your property.
Up to 3 cellphone number can be set to receive SMS notifications and up to 5 numbers can receive a phone call for alarm notification.
The two included remotes each allow for the function of arming and disarming the alarm and panic button functions.
Included in this package:
1x PIR to monitor indoor movement using infra red.
1x Magnetic door contact used on a door or window.
2x Remote controllers.
1x WASOS main control panel.
1 x Power Supply 12V
Built-in to the main panel, are the batteries for back-up power and siren.
Thank you for choosing our product range, we strive to be the best in service, product quality and sales assistance.
R3290.00 each including V.A.T. Excellent starter kit. Add up to 94 more sensors.
Need more than one? Get a Quote.
Excellent range of indoor and outdoor motion detection sensors and perimeter beams. Protect the specific region of interest with various options. Movement around the property will activate and trigger the alarm system to siren and send text message via SMS. Relays on the panel can also switch on or off external equipment, like lights or large sirens.